Free Budget Workshop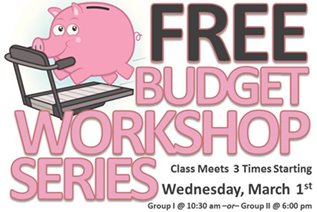 Place
South Morrison Family Education Center - 746 Adams Dr, Newport News, VA 23601, USA
Human Services Offers Free Budget Workshops

 

Interested in improving your budgeting skills or getting on track to get out of debt?  The Newport News Department of Human Services Housing Broker Team and the Virginia Cooperative Extension are presenting free budget workshops. The workshops are offered in the morning and evenings on the first Wednesday of the month starting in March. Morning workshops run from 10:30 AM – 11:45 AM and evenings from 6:00 PM - 7:15 PM. Classes will meet March 1, April 5, May 3. Each morning and evening group meets three times and you only need to sign up for your time preference.

All classes will be held at South Morrison Family Education Center, 746 Adams Drive in Newport News. Participants can earn a special toolkit and savings guide as a bonus at the end of the series by completing all three of the classes and keeping the best budget. Read more...

 
All Dates
2017-05-03 06:00 PM
2017-05-03 10:30 AM
2017-04-05 06:00 PM
2017-04-05 10:30 AM
2017-03-01 06:00 PM
2017-03-01 10:30 AM